I've been thinking a lot lately about the size of my panties. Specifically, I've been considering what sort of bottoms will work best with an act I'm developing, and whether or not it matters to people — audience members, producers, festival bookers — whether or not I go VERY BARE or just SORT OF BARE.
I could not help but notice, performing out there on the festival circuit this year and sitting in the audience at BHOF in June, that most performers these days are choosing g-strings or merkins. I would be lying if I didn't admit that seeing all those bare bums definitely influenced the g-string I chose for "The French Mademoiselle," which is almost the exact color of my skin and embellished with honey-colored stones. It basically looks like I'm not wearing anything, which was the point.
But I'll also admit that this isn't entirely my style. I prefer a little more coverage, a little more high-waisted vintage-ness, and the option to wear fishnets/stockings on the days I am feeling less than svelte.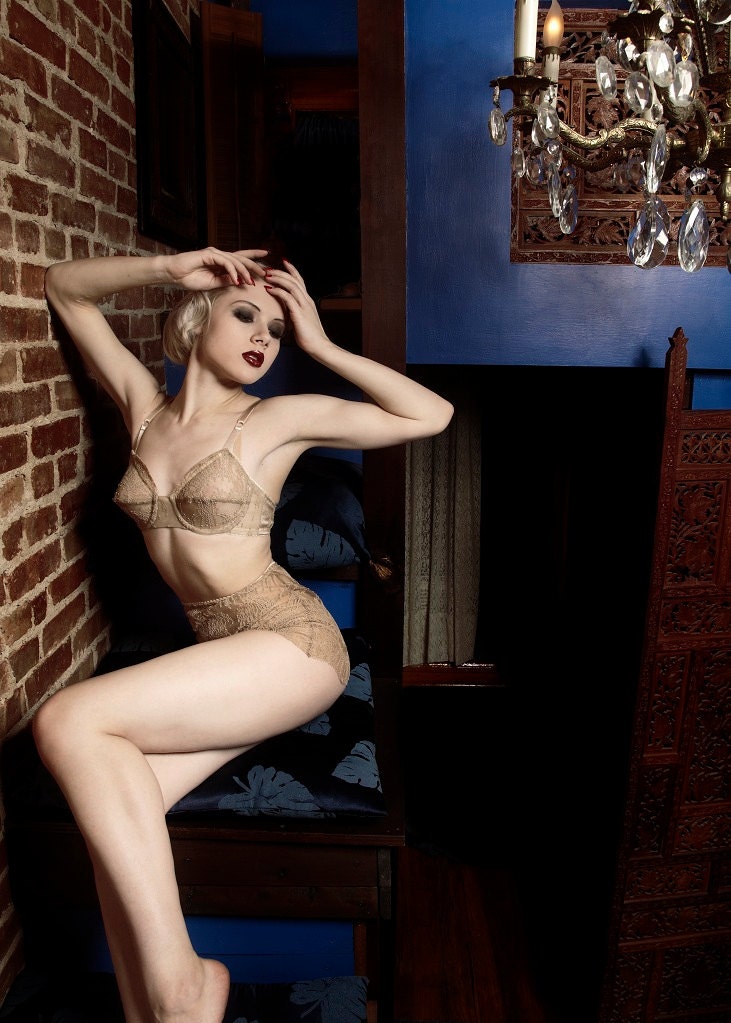 And that brings us to today, when I looked all over the Internet for something to wear under an elaborate robe. I searched high and low for high-waisted, nude-colored panties with fanciful cutouts or lace insets. I rejected dozens of vintage pairs (too baggy) and dozens of lace-up/strappy things that weren't quite upscale enough for what I wanted. I ended up buying a pair of custom, nude chantilly lace tap pants from Etsy. I think they'll be sexy, but will also make me feel more confident than the teeny-tiny-itsy-bitsy bottoms that seem to be in vogue.
I still worry, though, that somehow my choice of undergarment is going to be disappointing to people. Is that weird? I'm sure you think I'm weird. And most of my burlesque friends are wondering why in the heck I even bothered to write this post, because of course I should perform in whatever I feel good in, and not bow to some imaginary g-string pressure.
But there are some of you out there — I KNOW THERE ARE — who wonder the same thing. Are festivals and producers looking for the nakedest girls around? Are we somehow hindering ourselves by choosing giant underpants, even if they're gorgeous and provocative?